EViews 13 Patch Installer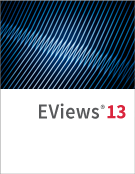 To determine if your installed EViews is out-of-date, you can compare the "build date" of your version of EViews with those posted below. Your version's build date is displayed when you select About EViews... from the EViews Help Menu.
The EViews 13 update executable may be used to update your currently installed EViews 13 to the most recent shipping version. The update installer will not run unless you already have EViews 13 installed on your machine.
In most cases, the easiest way to update your EViews 13 License is to simply click on Help->EViews Update.
Current Update
Patch Date : 2023-09-20
Corrected a deficiency in linearity detection used internally during threshold regression when regressors are of significantly differing magnitudes.
Corrected an improper application of the model solution convergence criteria in models contain leads with negative valued series.
>>Download patch for 64-bit version ( 184M ).
MD5 Checksum: bd497471a14fc802f6e8d69f7cfc1260
Prior Updates
August, 2023
Fixed delayed updating of some workfile object windows when using the EViews program debugger. Fixed crash when saving workfile as .DAT file for Text Updated Eurostat EDX to work with latest API. Fix for MIDAS calculations with incomplete periods. Fix for object type dialog when making matrix objects using Object/New Object. Fix for methods with missing help pages. Fix for object names in lowercase not being recognized in expressions. (updated) Fix for selected program text that is copied to clipboard resulting in hidden breakpoint text appearing in output.
July, 2023
Fix cointegration test erroring on eigenvalues. Fixed sample getPairString not working correctly with undated frequencies.
June, 2023
Improve error handling in Granger causality tests when there are insufficient observations to compute test regressions. Add (on, off, auto) mode setting to setelem line and graph transparency keyword syntax. Fixed pie chart handling of transparency. Fix intermittent loss of legend and extra text settings in mixed line/bar graphs.
May, 2023
Fixed issues in the BVAR IRF code which includes a bug in distribution graphs that was causing a crash. Fixed invalid error message when computing the @transpose of a rowvector. Fixed crash when a graph from an autoseries is added to a spool Fix error handling for random effects LM testing in degenerate cases so that full table results are produced. Added global option to disable multi-threading of series expressions containing RNG functions (aids reproducability). Fixed crash caused by pagecopy when group that contained an expression was at the end of alphabetic list of objects to copy. Fixed crash when "logmode L" and "logmsg mymsg" are both executed in the same jupyter cell. Fix for VECM lag exclusion test crash. Fixed EIA EDX bug when there is only a single route. Also fixed issue with certain quarterly dates not being recognized properly.
April, 2023
Fix possible issues in string representation of *switching regression* specifications with large numbers of variables. Updated EdxSDMX.dll to restore missing databases. Fixed crash when updating group vars. Fixed VEC not accommodating 0 lag specification. Two bug fixes in MCMC regeneration code. Fixed VEC retaining SR exogenous spec in memory even when removed by user. Fix for VECResults incorrect variable counts. Fix for VEC historical decomposition curves exploding. Fix VEC argument parsing for not correctly handling double spaces. Fixed FSE ordering bug (table view display and saving).
March, 2023
Released new EIA EDX to support their new v2 API. Fixed issue where updating a series to use an external link caused the external link spec to be all uppercased. Fixed issue where group that linked to series on a non-existent page caused a crash on workfile load - changed to leave errant series intact with NAs. Includes bug fixes for IRF display indexing. Fixed issue where graph lines with opacity appeared badly in EMF output. Opacity is now ignored when writing to EMF. Fix for a crash that can occur in the graph template dialog with long graph object names. Fixed COPY bug where both src and dest windows were being closed. Fixed intermittent crash caused by program window. Improved behavior of rowvector/vector/coef assignment to allow auto conversion between types so that, for example, a rowvector can be assigned to a vector, and vice versa. Fixed intermittent crash when exporting graphs in spool to PDF.
February, 2023
Fixed a crash in the group::reorder procedure occuring when a metric keyword generated NAs. Endogenous variable overrides are no longer ignored when solving a stochastic model. Fixed threading performance loss affecting MIDAS estimation. Updated merge of weight dialog bugfix Fixed problem with weighted estimation options in least squares estimation. Fixed starting values combo initialization in Heckman selection estimation. Fixed issue where hidden workfiles open for auto series was not ever being closed causing users to hit upper limit. Fix breakpoint list parsing in threshold equations. BTVCVAR IRF table bug fix. Multithreaded BTVCVAR forecasting and IRF code. Also included are preliminary changes for IRF as a function of dates. Increased length of add-in proc name Fixed bug in multi-graph data label command.
January, 2023
Entry for var::output now mentions selecting coefficients to display for BTVCVAR. Fix for BTVCVAR graph crash in release build when opened more than once Fixed crash caused by table @find being called without a return variable specified. Fixed crash when starting program debug without line numbers visible Fixed issue where Excel export options from command line were not being transferred to "Excel options" dialog correctly. New command for selecting BTVCVAR coefficients to display. Fixed possible crash when calculating summary statistics over an empty sample. Added handling for the lagless BTVCVAR. Fix for graph popups not appearing on first line series in mixed graphs (ex: impulse responses)
December, 2022
Fixed issues with BTVCVAR and multiple lag pairs. Fix problems with multi-lag impulse responses. Improve dialog handling when switching between estimation methods. Fix for bugs in VEC restrictions entered via command. Fixed crash due to bad parsing of equation breakpoint string. Fixed parsing of fixed workfile lags when @FL notation is used. Fixed issue with BTVCVAR I/O. Fixed crash caused by invalid DiD specification. Fixed BTVCVAR output transformations bug. Improved error message with AutoGets results. Fix for missing series in ARDL default view. Fixed inability to run x-13 on series that were imported from csv files. Corrected performance loss in for loops. Fixed issue with textobject read method for large files. Fix for @makediagonal error when used with rowvectors. Fix for inability to update macro enabled excel files. Fix for missing handling of the @dateceil function when Intel opcode generation is disabled. Fixed issue with incorrect textobject text color when in dark mode and opened via a program. Fixed issue with displayed line numbers when the global default was set off. Fix for crash when untitled objects would delete themselves. Fix for variance decomposition bug. Fix for writing excel files containing non-ascii characters. Fix for crash when using @tablenames().
November, 2022
Fixed missing variables from watch window. Fix for panel/pool coint dialog. Fix for a crash in Manage Links and Formula dialog. Changed pane and tab default to be off. Fix for issue with fetch data from Eurostat database. Fix for potential crash when copying Equation objects containing DiD results. Fixed for issue where switching to dark mode would not change the text color. Added to Insee sdmx database the ability to search and fetch series by serial number. Updated to use UAT environment for subscription. Fixed issue with missing IHS Global Insight database files. Fix for crash when sending message to Edx databases was failing. Fix for intermittent crash in panel DiD estimation. For/while loop lines containing replacement variables no longer generate erroneous errors. Fix for bug in BVARs not clearing previous estimation options. Updated all window size methods to ignore any current error. Fixed error handling for when the number of variables in a VAR does not match the number of variables in an impulse order list. Fixed bug in var impulses that prevented the use of "@" for selecting IRF results to display. Fix for error message when viewing the endogenous table or graph of a VAR with undefined endogenous series. Added additional equation commands to command explorer. Fix for Excel writes not replacing cells which contain formulas. Updated default BTVCVAR view. Fixed VEC cointegration test table displaying incorrect number of variables. Fix cointegration test dialog behavior when switching between MHM and OL. Updated ARDL to estimate without specifying distributed lag regressors. Fixed issue with saving BTVCVARs containing missing series. Fixed coefficient data member access in estimated VARs. Improved handling and labeling of breakpoint tests for large numbers of breaks. Fix for ardl lag selection combinations blowing out max. matrix size. Fixed spool folder behavior. Fix for EViewsPyConn interface for 32-bit versions. Fix to allow matrix row and col labels to be numeric strings. Fix for error when saving empty data graphs to PDF. Added program file name to Error messages generated by programs and addins always. Fix for crash for missing cell range in table.deleterow. Removed the cell protection format from frozen tables. Fixed the permissive errors option potentially discarding non-scalar expression results.
October, 2022
Changed to ignore previous window position during a program run. Sped up loading and running a long program with many includes. Fix for issue where AREMOS database could not be created. Removed range expression handling from table.setborder. Fixed for a crash in VAR forecasting with stochastic S.E. Fix to allow series to be converted to and from row vectors. Fix for issue with importmat and importtab not working properly when run from a program. Fix for unrecognized rowvector type when passed into a subroutine. Fixed inability to set individual row vector members. Fix for DSA not working on unopened series. Added fix to complete partial viewobjects even when not displayed. Gated BTVCVAR procs and added BTVCVAR to varViews. Fixed issue with saving area band graphs to PDF. Fixed issue where area and area band borders were not synced with dialog. Fix for missing lines in graph eps files. Fix for incorrect error message when running x13 from the command window and without any options. Fix to support ic=sic and ic=bic in ARDL estimation. Fixed Lasso variable selection display issues. Fixed loading issues with WFs containing VEC estimation variable. Fix for incorrect Userobj command explorer online references. Fixes for data memebrs in ARDL and funcoefs. Update to fix advanced query for EDXs. Fix for incorrect @ifirst and @ilast series values when a sample is applied. Added @pvals to logl (mleObj), system, and sspace. Added row vector, sym, and user objs to command explorer. Added the ability to assign matrix types to a single value. Cleaned up command explorer. Fix for issue where StringParse called via RConnAutomation XPut was running the wrong line. Added missing EDX files. Added 'emptycol' option to wfopen. Fix for possible crash after zooming and then changing the transformation. Fix for error when saving multi series graphs to PDF. Reverted .setattr and .label proc changes. Fix for incorrect single col stats.
September, 2022
Fix for group clearcontents crash if out of range cell is specified. Fix for incorrect row vector stats in the workfile stats table. Updated programs to NOT create evd file if no breakpoints are specified. Reenabled ENET coefevoll1 and coefevolr2 procs. Refined command capture and fix memory leaks in ENET. Fix for crash with multiple exec'd programs that use logging. Fix for autoarma options parsing. Fix for bug where a program that is called via EXEC had an include. Fix for bug with declaring a rowvector. Fix for crash when saving a graph containing opacity to postscript. Updated Net coefficient graph command capture. Readjusted 'setattr' proc to not overlap 'label' proc functionality. Updated object 'copy' proc behavior. Removed 'default' from all objects in command explorer. Fix for crash when saving a workfile using the 'txt' format and the file name has a .dat extension. Fix for ARDL not handling large number of variables. Removed group 'repeats' command proc. Removed 'stepls' from equation command listing. Fixed crash when opening find/replace dialog. Added SHIFT-key override when opening files to skip repositioning window to previous state. Made native attribute identifiers (ex: display name, last update) consistent between *.@attr() and *.setattr(). Fix for XY bar with log scale assertion. Also added command capture for graph histogram type. Fix for select all cells in group spreadsheets not working (ie. press ctl+A). Fix for rowvector and sym returning 'matrix' for @type and @detailedtype datamembers. Fixed bug where some windows were being repositioned with only a single pixel width. Fixed crash caused by program running with log dependencies. Fixed file IO error when saving an empty spool. Multiple VAR fixes: expanded exog variables, make cointegration group, delete endogenous, impulse response fixes. Added support for rowvector data members @dropcol, @col, and @cols. Fixed issue where line numbers in programs that contain multi-byte characters in comments were incorrect. Fixed issue where ESC key was causing program & capture windows to try to close prematurely when displayed in Pane & Tab mode. Fixed inability to read workfiles containing cointegration groups created via a VECM. Fixed @cnegbin and @rnegbin mistakenly returning values from the log-normal distribution. Fixed issue where TAB key was not working in Program window. Enabled row/col label button in matrix graphs. Fixed bug where importing data file resulted in a hidden workfile under pane & tab mode. Improved handling of out-of-bounds values in the cummulative distribution functions @cbeta, @cchisq, and @cexp. Added ability to resize matrices from Proc menu. Updated matrix multi graphs to use custom labels. Added the ability to include the program filename, path, and/or line number to message logs. Fixed font leaks in graphs. Fix for crash when renaming workfile pages via the UI on Mac. Added new @ispanetabmode to allow programs to detect window mode. Fix for ARDL dynamic multiplier command capture. Fix to preserve the default number format if a series is initially all NAs. Fixed the @ranks function's tie-breaking option "r" (randomize) mistakenly behaving like the option "i" (ignore). Fix ARDL crash if sample is incorrectly specified in estimation dialog.
August, 2022
Fix ARDL crash for incorrectly specified samples. Fix for incorrect ARDL symmetry test table header. Fix for classical ARDL standard error calculation on trend coefficient when trend is restricted. Fix to possible spreadsheet crash for invalid matrix assign statements. Fix for a crash when @convert is passed an inappropriate argument. Fix for incorrect placement of database windows. Fix for incorrect output series names when running x13 on series with long names. Removed flashing of windows when they are placed in previous spot. Fix for incorrect coefficient labels in (N)ARDL on-the-fly regressors table output. Fix for incorrect database window positions. Fix for possible flashing workfile pane. Fix for possible crash when restoring a pane. Fix for invalid rdata database object when using DBOPEN. Fix for crash when installing addins or user objects to write protected directories. Fix for possible crash graph dialog crash from a bar graph. Fixed issue with deleting objects from graph. Fixed issue with incorrect edit field placement when scrolling a table. Fix for cell edit field not always appearing. Rearranged ordering of optional parameters to @cumd* functions. Fix for a bug in threshold forecast graphs. Fix for left and right positioned graph text objects not being rotated. Fixed issues with moving left and right positioned graph text objects. Fix for a bug in DiD estimation. Updated registration dialog text. Fixed issue with opening Bloomberg database via command. Added new subwin painting mode. Fix for ARDL workfile read for legacy WFs with incorrect MaxLagCounts vector. Fixes to movereg output. Fixes to DiD BJS estimation with regressors. Fix for a bug where evsettings file was getting two extensions. Fix for vector.resize resizing to a row vector. Added extra column in between periods in BTVCVAR impulse response table. Added error to multi break test if not specified by list. Fix NARDL incorrect symmetry test error. Fix NARDL symmetry test error not displaying in some cases. Fix for NARDL ignoring variable order when multiple regressors are specified. Fix for incorrect colors in confidence intervals graph. Fix ARDL not throwing error if duplicate series are specified. Uncollapsed the BTVCVAR IRF periods (start dates) tree. Fix for possible clipboard irregularities in area bands graph. Fix for incorrect command capture text color in command window when in dark mode.