EViews 13 Patch Installer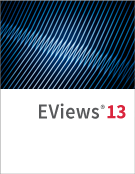 To determine if your installed EViews is out-of-date, you can compare the "build date" of your version of EViews with those posted below. Your version's build date is displayed when you select About EViews... from the EViews Help Menu.
The EViews 13 update executable may be used to update your currently installed EViews 13 to the most recent shipping version. The update installer will not run unless you already have EViews 13 installed on your machine.
In most cases, the easiest way to update your EViews 13 License is to simply click on Help->EViews Update.
Current Update
Patch Date : 2022-09-21
Removed 'default' from all objects in command explorer
Fix for crash when saving a workfile using the 'txt' format and the file name has a .dat extension
Fix for ARDL not handling large number of variables
Removed group 'repeats' command proc
Removed 'stepls' from equation command listing
>>Download patch for 64-bit version ( 181M ).
MD5 Checksum: 065c3a0160f4b8e8764063eac82cfa1f
Prior Updates
September, 2022
Fixed crash when opening find/replace dialog Added SHIFT-key override when opening files to skip repositioning window to previous state Made native attribute identifiers (ex: display name, last update) consistent between *.@attr() and *.setattr() Fix for XY bar with log scale assertion. Also added command capture for graph histogram type. Fix for select all cells in group spreadsheets not working (ie. press ctl+A) Fix for rowvector and sym returning 'matrix' for @type and @detailedtype datamembers Fixed bug where some windows were being repositioned with only a single pixel width Fixed crash caused by program running with log dependencies Fixed file IO error when saving an empty spool. Multiple VAR fixes: expanded exog variables, make cointegration group, delete endogenous, impulse response fixes Added support for rowvector data members @dropcol, @col, and @cols Fixed issue where line numbers in programs that contain multi-byte characters in comments were incorrect. Fixed issue where ESC key was causing program & capture windows to try to close prematurely when displayed in Pane & Tab mode Fixed inability to read workfiles containing cointegration groups created via a VECM Fixed @cnegbin and @rnegbin mistakenly returning values from the log-normal distribution. Fixed issue where TAB key was not working in Program window. Enabled row/col label button in matrix graphs Fixed bug where importing data file resulted in a hidden workfile under pane & tab mode Improved handling of out-of-bounds values in the cummulative distribution functions @cbeta, @cchisq, and @cexp Added ability to resize matrices from Proc menu Updated matrix multi graphs to use custom labels. Added the ability to include the program filename, path, and/or line number to message logs Fixed font leaks in graphs Fix for crash when renaming workfile pages via the UI on Mac Added new @ispanetabmode to allow programs to detect window mode Fix for ARDL dynamic multiplier command capture Fix to preserve the default number format if a series is initially all NAs Fixed the @ranks function's tie-breaking option "r" (randomize) mistakenly behaving like the option "i" (ignore). Fix ARDL crash if sample is incorrectly specified in estimation dialog.
August, 2022
Fix ARDL crash for incorrectly specified samples. Fix for incorrect ARDL symmetry test table header. Fix for classical ARDL standard error calculation on trend coefficient when trend is restricted. Fix to possible spreadsheet crash for invalid matrix assign statements. Fix for a crash when @convert is passed an inappropriate argument. Fix for incorrect placement of database windows. Fix for incorrect output series names when running x13 on series with long names. Removed flashing of windows when they are placed in previous spot. Fix for incorrect coefficient labels in (N)ARDL on-the-fly regressors table output. Fix for incorrect database window positions. Fix for possible flashing workfile pane. Fix for possible crash when restoring a pane. Fix for invalid rdata database object when using DBOPEN. Fix for crash when installing addins or user objects to write protected directories. Fix for possible crash graph dialog crash from a bar graph. Fixed issue with deleting objects from graph. Fixed issue with incorrect edit field placement when scrolling a table. Fix for cell edit field not always appearing. Rearranged ordering of optional parameters to @cumd* functions. Fix for a bug in threshold forecast graphs. Fix for left and right positioned graph text objects not being rotated. Fixed issues with moving left and right positioned graph text objects. Fix for a bug in DiD estimation. Updated registration dialog text. Fixed issue with opening Bloomberg database via command. Added new subwin painting mode. Fix for ARDL workfile read for legacy WFs with incorrect MaxLagCounts vector. Fixes to movereg output. Fixes to DiD BJS estimation with regressors. Fix for a bug where evsettings file was getting two extensions. Fix for vector.resize resizing to a row vector. Added extra column in between periods in BTVCVAR impulse response table. Added error to multi break test if not specified by list. Fix NARDL incorrect symmetry test error. Fix NARDL symmetry test error not displaying in some cases. Fix for NARDL ignoring variable order when multiple regressors are specified. Fix for incorrect colors in confidence intervals graph. Fix ARDL not throwing error if duplicate series are specified. Uncollapsed the BTVCVAR IRF periods (start dates) tree. Fix for possible clipboard irregularities in area bands graph. Fix for incorrect command capture text color in command window when in dark mode.